Stay Covid Safe in Royal Woods Resort's Home Away From Home Self Contained Suites and Villas
Posted in
Accommodation
@
Jul 14th 2020 9:25am
- By Royal Woods Resort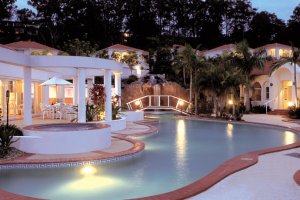 Travel is back on the cards for Australians, with states lifting restrictions on interstate and intrastate travel. During these unusual times the world is experiencing, there is no doubt that the safest type of holiday at the moment is self drive.
Royal Woods Resort, an award-winning accommodation development on the beautiful Gold Coast, is the perfect option for your South East Queensland self drive getaway. Perfectly located less than 15 minutes drive away from the crowded tourist areas, Royal Woods has a range of luxurious 1, 2 and 3 bedroom self contained options for you to choose from.
After a day exploring all that the Gold Coast has to offer, from the beaches to the stunning Gold Coast Hinterland and everything in between including shopping and theme parks, you can relax in the luxury and safety of your "home away from home."
With 45 independent (freestanding) villas set on 12 acres at Ashmore, the resort is the only all villa-style resort on the Gold Coast. The stunning, architecturally designed villas offer unprecedented space. Set around a circular drive with an average of 20 feet between villas, Royal Woods Resort provides abundant privacy and peace.
Royal Woods Resort is a gated accommodation complex and all suites and villas feature a doorstep lockup garage space to keep your car secure. Parking for all guests is complimentary.
And there is no need to eat in crowded restaurants or wait outside in the cold for other diners to leave so you don't go over the number restrictions, with Royal Woods Resort's self contained kitchens and a supermarket less than 2 minutes drive away, you can stay safe and save money by cooking your favourite meals. To check our your preferred dates and all the specials on offer, simply click here https://www.royalwoods.com.au/
So, what makes self-driving holidays better than other types of getaways? There are so many benefits and added flexibility that comes with travelling on the road.
Safer
With the outbreak of the coronavirus, some may be wary about getting away for a holiday. On a self-driving break you don't have to worry about being crammed together with other people, meaning the risk of contracting Covid-19 is relatively low.
According to the recent Jayco survey, when it comes to domestic travel and the recent coronavirus outbreak, the majority of Australians believe that travelling on the road in their own vehicle is the safest way to get to their holiday destination. In fact, a total of 76% of respondents agree or strongly agree that travelling on the road in a private vehicle is safer than any other mode of transportation given the recent pandemic.
Cheaper
Flights, even within Australia, can be quite pricey and come with extra costs, such as the transport to the airport and the expensive snacks at the airport and on the plane quickly eating away at your savings. With self drive, the main thing you'll have to budget for is the price of petrol, which is still a lot cheaper than public transport.
Control of journey
Group tours are great when you want to make new friends, or travel with a big group of people, but not the best idea during the current pandemic. Plus you're usually stuck to a set schedule and don't always have the freedom of choosing where you want to go.
There are many benefits that comes with travelling on the road. You can stop as much as you want, drive at your own pace and simply enjoy the freedom of a road trip. Not to mention the spectacular views along the way! There's no better time to get on the road, connect to the great outdoors and explore your very own backyard.