The Top 5 Beaches to visit near your Ashmore Accommodation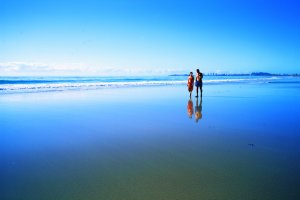 Australia, a country-slash-continent known for its very distinctive people, the slang, the Sydney Opera, Koalas, Beer, Barbecue, and of course it's amazing beaches. Australia is a lone big island. It's no wonder why it poses a ton of breath-taking beaches and the best Ashmore Accommodation.
If you are planning to travel to Australia, make sure to experience either one of their top 5 beaches featured below:

The 75 Mile Beach, Fraser Island
We cannot make a top 5 beaches and Ashmore Accommodation in Australia without mentioning the World's Largest Sand Island. 75 Mile Beach is also the unofficial face of Queensland's Fraser Island. If you haven't heard about this beach, the 75 Mile beach got its name from its approximate length, 75. It's not called the World's largest sand island for nothing. This beach stretches out really long.
Aside from that, the 75 Mile has much more to it than just length. The sands can also play with your eyes, as seen by its various stretches of multi-colored appearance form a colorful shade that range from the standard white to bright oranges to darker, brownish-yellow tones.
The downside about the 75 Mile beach is about its waters being inhabited by tiger sharks, making tourists unable to experience swimming in it. But nonetheless, it's still a breath-taking beach that deserves mention as one of the top 5's in Australia

Noosa Main Beach, Sunshine Coast
Arguably one of the more famous beaches in Australia, the Noosa beach is a sight to behold. This beach features perfect grains of sand, ideal water for swimming and just the right amount of waves for surfing, easily accessible, and is rich in both marine and shore-dwelling wildlife. But the main highlight of this beach would truly be the presence of dolphins and whales in the area. What a sight to behold.

Burleigh Heads Beach, Gold Coast
This beach is one of Australia's surfing capital. Aside from that it also has numerous beautiful walkways and a beautiful beachside boulevard. It may be situated near the highway, but it is one of the cleanest beaches you'd find here in Australia.

Cable Beach, Broome, Western Australia
If you are a photographer who loves taking photos of beautiful sceneries, then you have to visit Cable beach. Priding itself for its outstanding sceneries of a natural beach view, Cable Beach is a very calm and pleasantly beautiful beach that anyone will absolutely enjoy.

Whitehaven Beach, Whitsunday Island, Whitsundays
Whitehaven is a favorite of most people here in Australia. If you have looked at Whitehaven Beach on the internet, you could see just how beautiful it is, how much more if you'd be able to actually be in Whitehaven and experience its beauty and magnificence. The most beautiful beach in Australia indeed.
To make sure you are staying at the best Ashmore Accommodation that's near these beautiful beaches, visit http://royalwoods.etourism.net.au/