The Awards Keep Coming for Royal Woods Resort!
Posted in
Awards
@
Jun 10th 2016 12:10pm
- By Royal Woods Resort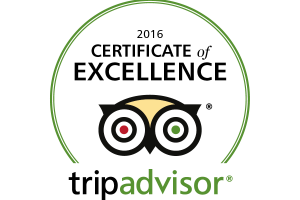 In 2016, the Resort has been awarded a Trip Advisor Certificate of Excellence for the third year in a row, as well as Booking.com announcing Royal Woods has received a Guest Review Award. These prestigious awards are given out based on reviews from guests who have stayed at the Resort. Put simply, Royal Woods guests think the Resort is excellent!
Booking.com's letter said "Your review score marks you as truly exceptional."
The TripAdvisor Certificate of Excellence for the third year in a row is something we are extremely proud of. Now in its sixth year, the achievement celebrates hospitality businesses that have earned great traveller reviews on TripAdvisor over the past year. Certificate of Excellence recipients include accommodation, eateries and attractions located all over the world that have continually delivered a quality customer experience.
"With the Certificate of Excellence, TripAdvisor honours hospitality businesses that have consistently received strong praise and ratings from travellers", said Heather Leisman, Vice President of Industry Marketing, TripAdvisor. "This recognition helps travellers identify and book properties that regularly deliver great service. TripAdvisor is proud to play this integral role in helping travellers feel more confident in their booking decisions."
The Certificate of Excellence accounts for the quality, quantity and recency of reviews submitted by travellers on TripAdvisor over a 12-month period. To qualify, a business must maintain an overall TripAdvisor bubble rating of at least four out of five, have a minimum number of reviews and must have been listed on TripAdvisor for at least 12 months.
"Winning the TripAdvisor Certificate of Excellence for a third year in a row is a true source of pride for the entire team at Royal Woods Resort and we'd like to thank all of our past guests who took the time to complete a review on TripAdvisor," said Royal Woods Resort Director Kamni Kalwani. "There is no greater seal of approval than being recognised by one's customers. With the TripAdvisor Certificate of Excellence based on customer reviews, the accolade is a true vote of confidence to our business and our continued commitment to excellence."
Don't you owe it to yourself to experience the excellence of Royal Woods Resort?
Check out our website http://www.royalwoods.com.au/ for the latest specials or call us on 07 5597 0650. Our friendly team are standing by to offer you the lowest rates and helpful local information.
Make sure you like our Facebook Page today so you can be amongst the first to hear about great specials of up to 50% off the price of our luxury accommodation on the Gold Coast.