The 7 Best Restaurants Near Our Ashmore Gold Coast Accommodation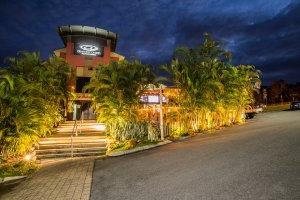 7 Best Gold Coast Restaurants to Enjoy with Royal Woods Resort
Book a comfortable Gold Coast holiday near Surfers Paradise with our affordable self-contained suites and villas and enjoy a fantastic local dining scene right at the tips of your fingers.

Here at Royal Woods Resort, we offer a quiet Gold Coast location in Ashmore - minutes away from Metricon Stadium and the Gold Coast Turf Club and a short 10-minute drive from the heart of Surfers Paradise.

Our one, two and three bedroom suites and villas are ideal for couples, families and groups, each fully self-contained with stunning private balconies and all the necessary comforts of home. With us, explore famous Surfers Paradise just a stone's throw away and take advantage of superb family-friendly facilities - a guaranteed memorable escape no matter what you have in mind.

Our location offers a choice of favoured local Gold Coast restaurants to spoil yourself to on your Gold Coast holiday. Start planning today with Royal Woods Ashmore and make sure to sprinkle your itinerary with these must-visit local favourites:
Ashmore Tavern
Within a quick 5-minute drive, enjoy all-day dining all week at Ashmore Tavern - a popular restaurant and events space with a variety of lunch and dinner options. The menu has plenty choose from, including daily specials and a large bar menu due to the tavern's onsite liquor warehouse. Check what's on before your visit as Ashmore Tavern hosts regular live music performances and trivia nights.
Ashmore Seafood and Steakhouse
Another popular restaurant in Ashmore, Ashmore Seafood & Steakhouse offers a filling seafood and steak menu to enjoy in a large fine dining setting. There's something for everyone at Ashmore Seafood and Steakhouse, including a broad choice of entrées, seafood and meaty dishes with vegetarian and gluten-free options available. The complimentary garlic bread is a local favourite, and for seafood lovers, there isn't a better place to go in Ashmore QLD.
Athenia Restaurant & Bar
If Greek food gets your mouth watering, don't miss Athenia Restaurant and Bar in Carrara - a 5-minute drive from our Gold Coast resort. When it comes to greek fine dining, you won't be left disappointed at Athenia, where authentic cuisine from the heart of Greece delivers a tasteful food experience for either lunch or dinner. Pick a banquet or platter to share or choose from a number of Greek seafood and grilled meat mains; follow it with a famous Greek dessert and complete your meal with a choice of wine, beer and Greek spirits.
Aquis Park Gold Coast Turf Club
The Gold Coast's number-one racecourse has a world-class dining experience to enjoy within its two onsite restaurants: The Skyline Restaurant and Gallery Restaurant. Dine in style with a view of the racecourse, where both restaurants provide luxury service and a menu boasting fresh locally sourced produce and a big drinks selection to cater to all. For the best experience, visit the Gold Coast Turf Club on race-day!
Arlo's Pizzeria
On Chevron Island before entering central Surfers Paradise, spoil yourself to authentic Italian pizza at Arlo's Pizzeria. This family-owned pizzeria is loved by locals, offering in-house pizzas that are handmade by chef-owners Paul and Jo-Anne Ramunno, who have a special family recipe that delivers an authentic taste of Italy on Chevron Island. Homemade Pomodoro sauce, locally sourced toppings and fresh dough make Arlo's pizzas a must-try in Surfers Paradise Gold Coast.
Boom Boom Burgers
Not to be ignored for burger lovers, Boom Boom Burgers on Chevron Island crafts the juiciest burgers in Surfers Paradise, all made with premium beef and local ingredients. The menu includes several signature burgers to wrap your taste buds around, including tasty potato sides, tapas dishes and burger additions to supplement your chosen burger. Voted one of the best burger bars in Australia, Boom Boom Burgers guarantees a juicy burger experience that will send you away satisfied.
Fu Machu Oriental Kitchen
Enjoy progressive oriental cuisine at Fu Man Oriental Kitchen - also located on Chevron Island Surfers Paradise. Focused on providing authentic flavours from all corners of the East, Fu Manchu Oriental Kitchen offers a selection of Asian specialities to try, from flavoured seafood and meat dishes to wonton tacos and dressed salads. Grab an after-dinner cocktail or try one of Fu Manchu's oriental teas to round off your visit.
Enjoy an Affordable Gold Coast Holiday with Royal Woods
Enjoy the above restaurants and more on your Gold Coast holiday with our relaxing location in Ashmore Queensland - a short 10-minute drive from Surfers Paradise!

At Royal Woods Gold Coast, our fully self-contained suites and villas are a luxury home away from home no matter whether you're planning to visit as a couple, family or group, where you can have everything you need to relax for an affordable price.

At the centre of our resort, unwind in our inviting lagoon-style swimming pool, ideal for both relaxation and bonding with the kids. Take a soak in one of two onsite heated spas, enjoy downtime in our heated indoor pool and cook up a balmy evening treat at the poolside barbecue area.

As well as being near Metricon Stadium and Gold Coast Turf Club, take full advantage of Surfers Paradise - the leading tourist destination on the Gold Coast home to numerous attractions, shopping centres and live entertainment venues. Soak up Surfers Paradise Beach within moments, and choose from even more exciting restaurants on Surfers Paradise Esplanade and Surfers Paradise Boulevard.
Save Today - Book Our Ashmore Gold Coast Accommodation Directly
You can save today by booking directly with us, where we guarantee the best rates for our Gold Coast accommodation near Surfers Paradise. Choose one of our inviting One or Two Bedroom Suites, or spread out with a group in our spacious Three Bedroom Villa - all of which feature full kitchen facilities, comfortable Queen beds and large private balconies for al fresco dining and enjoying the sun.

Learn more about our Gold Coast resort and view our affordable rates today - just visit Royal Woods Ashmore Gold Coast.