See Gold Coast Suns vs Brisbane Lions QClash 17 at Metricon Stadium!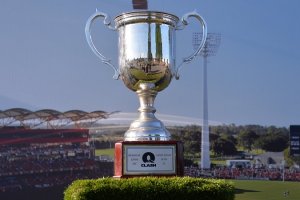 Head to the Gold Coast this April to see the Gold Coast Suns clash with Queensland rivals the Brisbane Lions in Round 6 of the 2019 AFL season!

Founded in 2009, the Gold Coast Suns - known as the Suns - are the Gold Coast's home AFL club which has been active in the AFL since 2011. The Gold Coast Suns are yet to reach the finals, with their highest league position being 12th in 2014. Being one of two AFL clubs in Queensland, along with the Brisbane Lions, the Gold Coast Suns have enjoyed a long-running rivalry with their neighbouring city - now aptly named "QClash" - which has been a regular highlight for AFL fans throughout Queensland.

Starting on March 21, the 123rd AFL season will see the Gold Coast Suns aim for a flying start after a poor performance last year, which saw them finish 17th in the 2018 AFL ladder with only four wins. Under the wing of new coach Stuart Dew for the second year running, fans of the Gold Coast Suns are staying determined for a positive change, of course, this 2019.

Coming in April, the Gold Coast Suns' rival match against the Brisbane Lions - which will mark their third home game of the 2019 AFL season and their sixth game overall - is all set to be an explosive affair for AFL fans all over Queensland, and with it taking place on Gold Coast turf at the iconic Metricon Stadium, the Gold Coast Suns will be looking for nothing less than securing the win!

If you're a fan of either the Suns or the Lions or a keen Queensland follower of the AFL, don't miss QClash 17, which will see the Gold Coast Suns take on the Brisbane Lions for their sixth game of the 2019 AFL season. The Suns will be playing at home at the Metricon Stadium, and it's one friendly AFL rivalry that's not to be missed on April 27 - kick-off is at 1.45pm, but make sure to arrive early as there'll be plenty of pre-game entertainment for both kids and adults!
Stay Near Metricon Stadium with Our Metricon Stadium Accommodation
If you're planning to attend Clash 17, look no further than Royal Woods, where we offer stunning short and long-term self-contained rentals near Metricon Stadium. Situated just minutes away from Metricon Stadium - also known as Carrara Stadium - our fantastic choice of luxury suites and villas offers the perfect choice for holidaymakers and travellers as well as those looking to relax near the biggest monthly events at the Gold Coast's largest commercial stadium.

As well as Metricon Stadium, our resort in Ashmore Queensland boasts an unbeatable location on the sunny Gold Coast, where Surfers Paradise, Broadbeach Southport can be reached within a short ride. With Royal Woods Ashmore, you can enjoy all of the biggest Metricon Stadium events, and at the same time be just moments away from the sought-after beaches, attractions and shopping centres that the Gold Coast is most famous for!
Enjoy Surfers Paradise with Royal Woods Resort
Home to the Gold Coast's leading tourist attractions, shopping centres, and live entertainment, there's no better place to be near on the Gold Coast than Surfers Paradise - the leading tourist destination along the coast. Within a short ten-minute drive from Royal Woods Resort, Surfers Paradise is yours to explore in its entirety, which has enough fun and excitement to have you returning multiple times throughout your stay.

Surfers Paradise Beach is a top location for surfers as well as beachgoers that just want to relax and take in the atmosphere. Spend a few hours surfing, paddle-boarding or sunbathing and strolling on the beach, then head into Surfers Paradise's main vicinity for shopping, dining and fun with some of the many attractions Surfers Paradise has to offer.

Both Paradise Centre and Chevron Renaissance offer a wide selection of stores and eateries to choose from, where you can be sure to find must-have additions to your wardrobe, holiday souvenirs, and a fantastic restaurant or cafe to dine in. After enjoying the beach and having a look around the shopping centres, don't leave Surfers Paradise without visiting a few of the attractions, which include the SkyPoint Observation Deck, Timezone Surfers Paradise, Ripley's Believe It or Not! Odditorium, and lots more.

If you're looking to add even more excitement to your stay at Royal Woods, just catch one of the exciting monthly shows at Home of the Arts in Surfers Paradise, which is located just minutes away from our Nerang accommodation. There is always something worth seeing: from world-class ballet and theatre to internationally acclaimed stand-up comedians and performers.
Choose from Our Stunning Ashmore Gold Coast Suites and Villas Today
Royal Woods Resort features a superb choice of one, two and three bedroom suites and villas with the perfect option for you, no matter who you decide to bring along to the Gold Coast! All of our Ashmore Gold Coast accommodation comes with spacious living and dining areas, fully equipped kitchens and kitchenettes, and inviting Queen-sized beds for both a comfortable and luxurious break near Metricon Stadium and Surfers Paradise.

For couples, our cosy One Bedroom Suites are an ideal choice with one large Queen-sized bed. For families, our Two Bedroom Suites feature one Queen-sized and two single beds for up to four guests in total. For large families as well as groups, our Three Bedroom Villas can accommodate up to eight guests with two Queen-sized beds, two single beds, and an additional sofa bed. Enjoy an extra bathroom if you book our Two Bedroom Suite, and three bathrooms if you book our Three Bedroom Villa!
Book Directly with Royal Woods Resort for the Best Available Rates
Make sure to book directly with Royal Woods Resort for a hassle-free booking experience that also gives you the best rates available.

Whether you're looking to stay near the Metricon Stadium this April or dive headfirst into Surfers Paradise, our stunning fully furnished suites and villas guarantee to provide you nonstop excitement at the heart of the Gold Coast.

To see our prices and book today, just visit Royal Woods Resort.