Queen + Adam Lambert Rhapsody Tour | Metricon Stadium Accommodation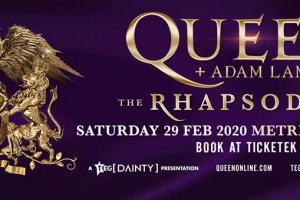 Queen + Adam Lambert Rhapsody Tour 2020 at Metricon Stadium
Diehard Australian fans of Queen are in for a treat when The Rhapsody Tour makes its way to Metricon Stadium on the Queensland Gold Coast. Queen, taking the stage with handpicked frontman Adam Lambert, will perform all their legendary songs in what is the final date of their huge six-date Australian tour, making it one of the must-see arena concerts this summer 2020.

For fans coming from across the country, our Metricon Stadium accommodation offers comfort and convenience just over a 5-minute drive from Metricon Stadium. We offer one, two and three-bedroom accommodation to match any budget, modern and fully self-contained with everything you need to relax over an affordable short-term stay this February.

Don't miss out - book directly with Royal Woods Ashmore today.
Queen and Adam Lambert - The Rhapsody Tour
For more than seven years, Adam Lambert and Queen's original members, including Brian May and Roger Taylor, have been performing worldwide, selling out some of the world's biggest stadiums for Queen fans old and new. Adam Lambert, handpicked by Brian May and Roger Taylor, has injected all-new energy into their performances, impressing audiences around the globe with his Mercury-like vocal range and stage presence.

Returning to Australia this 2020, The Rhapsody Tour comes hot off the heels of Bohemian Rhapsody - the blockbuster biopic that won multiple awards and introduced Queen to a whole new audience. Just six dates have been announced across Australia's major cities, with one date set to rock Metricon Stadium, also known as Carrara Stadium, before they go on a three-month tour break.

Queen and Adam Lambert Rhapsody Tour 2020 will feature all the best-selling rock anthems, such as "We Will Rock You", "We Are the Champions", "Don't Stop Me Now", "Somebody to Love", "Killer Queen", "I Want to Break Free" and "Bohemian Rhapsody". Stronger than ever before - with Queen's 50th anniversary lined up for 2020 - this live arena rock spectacular isn't to be missed when it lands on the Gold Coast on Saturday, February 29.
Book Metricon Stadium Accommodation with Royal Woods
If you've already got your tickets and need accommodation near Metricon Stadium, Royal Woods offers a range of affordable suites and villas that are located just a 7-minute drive from Metricon Stadium Gold Coast. Situated in Ashmore, our one, two and three-bedroom Ashmore Gold Coast accommodation is ideal for singles, couples and groups, modern and fully self-contained for both comfort and convenience this February.

All affordable options at Royal Woods are spacious, homely and complete with full kitchen facilities. With both standard and premium suites to choose from, including generously sized three-bedroom villas, we offer a range to suit any budget, complete with resort-style facilities to access and complimentary guest parking in a lock-up garage.
1 and 2 Bedroom Suites
Ideal for travellers, couples and small groups, Royal Woods suites offer a short-term home away from home that's fully furnished and equipped with all the necessary luxuries. Available in one and two bedroom options, each features a welcoming living and dining area, kitchen facilities and a flatscreen TV, alongside a spa bath in a modern bathroom and a private balcony accessible from the living area.

Our one-bedroom suites offer a kitchenette, while our two-bedroom suites provide full kitchen facilities for guests looking for maximum convenience. Our one bedroom suites feature one Queen-sized bed, with two-bedroom suites providing one Queen-sized bed and two single beds for up to 5 guests. For added luxury, upgrade to our premium suites, also available with one and two bedrooms.
3 Bedroom Villas
For large families and groups, our three bedroom villas are the next best choice at Royal Woods, offering a generously sized living and dining area with full kitchen and laundry facilities, flatscreen TV and three modern bathrooms to go with each bedroom. These feature a private garden to utilise, with a comfortable bed arrangement of two Queen-sized beds and two single beds for up to 8 guests in total - perfect if you're looking for group accommodation near Metricon Stadium.
Free Facilities at Royal Woods Resort
With Royal Woods, all short and long-term stays provide guest access to our facilities, which comprise of everything needed to relax and stay entertained. Free to use with our Ashmore Gold Coast accommodation, these are located onsite both indoors and outdoors, complemented by our quiet location that's under a 10-minute drive from Metricon Stadium and Surfers Paradise but without the hustle and bustle of the crowds and traffic.

We have two inviting swimming pools at Royal Woods - indoor and outdoor to cater to any mood. Our indoor pool is heated, while our outdoor swimming pool boasts a lagoon-style design surrounded by tropical resort gardens. For relaxation, two spas are located onsite, both heated and unheated, along with a well-equipped gym and barbecue area, ideal for convenient onsite meals.
Save - Book Directly Today
Make sure you're near Metricon Stadium with our short-term Metricon Stadium rentals at Royal Woods. Just a 7-minute drive from Gold Coast Metricon Stadium, we offer affordable comfort and convenience if you're looking to catch the final date of Queen and Adam Lambert The Rhapsody Tour on February 29, lined up to be one of the biggest events in Queensland this summer.

Our self-contained suites and villas comprise of one, two and three-bedroom options, providing a suitable stay for solo travellers, couples and large groups that want to be as close to Metricon Stadium as possible. In addition to Metricon Stadium, our location offers Surfers Paradise in a short drive, along with all the sought-after horse racing events held monthly at Aquis Park Gold Coast Turf Club.

For our cheapest rates available, make sure to book directly with us, guaranteeing the best price for your stay near Metricon Stadium in February. Find more information and book today at Royal Woods Resort.