Moscow Ballet La Classique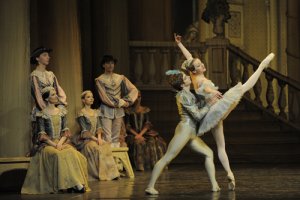 On April 18, 2015, Moscow Ballet La Classique return Downunder with their spectacular masterpiece Sleeping Beauty, ballet's most loved fairytale.
The greatest success of Russian theatre is undoubtedly classical ballet. Established in 1990 by its current director Elik Melikov, with their internationally acclaimed ballet skills, lavish costumes and magnificent stage sets, The Illustrious La Classique takes you on a mystical journey to the fairytale world of princess Aurora the Sleeping Beauty.
Once upon a time a distant Kingdom celebrated the birth of a beautiful Princess who they named 'Aurora'.
The evil fairy 'Carabosse' casts a spell on the Princess meaning she will die from a needle prick. The King banishes all knitting needles from the Kingdom. Princess Aurora is dancing with four Princes on her 16th birthday. She pricks her finger on a needle hidden in a bouquet of flowers presented to her by the disguised Carabosse. She falls into a deep sleep. The whole Kingdom is very sad.
'Prince Deserea' encounters the lilac fairy where he finds the Princess of his dream, Princess Aurora the Sleeping beauty...he kisses her gently back to life.
A fairytale party takes place and the whole Kingdom joins in the celebration of Princess Auroras wedding to Prince Deserea.
Moscow Ballet La Classique invites the whole family to an evening of spectacular ballet bringing to life Tchaikovsky's fantastically popular score.
In this 2 act fairytale performance La Classique will capture the imagination, the passion and the magic of Sleeping Beauty, a hugely enjoyable dance spectacular for ballet lovers of all ages.
Grand International Concerts PTY presents Moscow Ballet 'La Classique'.
Don't miss Sleeping Beauty on Saturday, April 18, 2015 at Arts Theatre, The Arts Centre Gold Coast.
Our Ashmore Accommodation is just a few minutes away from The Arts Centre Gold Coast.
We offer a selection of one and two bedroom suites and three bedroom villas. The one bedroom suites are ideal for one to two people. Perfect for couples, enjoy a romantic getaway and book our one bedroom suite. The two bedroom suites are convenient for families and friends. The three bedroom villas can accommodate five to six people. If you are travelling with a larger group, our three bedroom villas are ideal for you. The suites and villas feature beds, bathrooms and kitchens.
For booking information, please visit http://royalwoods.etourism.net.au