Don't Miss What's On at the Spotlight Theatre with Royal Woods Resort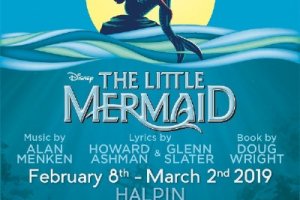 Situated in Ashmore QLD, our Gold Coast resort offers an excellent location near The Spotlight Theatre, which is home to some of the best musicals and theatrical shows along the coastline. This March brings two brand new productions to The Spotlight Theatre, and by staying with us, you can be sure not to miss out as you relax in luxury accommodation next to cherished family and friends.

At Royal Woods Resort, our choice of fully furnished suites and villas are the ideal choice for a fantastic Gold Coast holiday. With a close location near The Spotlight Theatre, Metricon Stadium, Gold Coast Turf Club as well as Surfers Paradise, you can unwind at the heart of the Gold Coast's premier live entertainment scene, with a whole host of tourist attractions and shopping centres to explore throughout your stay.

Start planning your autumn getaway today with Royal Woods, and don't forget to check out what's arriving nearby at the iconic Spotlight Theatre.
The Little Mermaid
One of the most beloved fairytales of all time comes to the stage in The Spotlight Theatrical Company's production of The Little Mermaid. Faithful to the fairytale and featuring all of the story's original characters, this brand new production of The Little Mermaid is a must-see this March for both parents and kids alike.

Written by Danish author Hans Christian Andersen in the 19th century, The Little Mermaid follows the story of a young mermaid who desires to become human after falling in love with a handsome prince. The story has been adapted in abundance since its original publishing; its most famous adaptations being the 1989 film by Walt Disney Pictures, and the more recent Netflix adaptation, released in 2018.

The Spotlight Theatrical Company's production of The Little Mermaid closely follows the Walt Disney Pictures adaptation, featuring mermaid princess Ariel along with Sebastian, Prince Eric, Ursula and the rest. It's an inspiring tale of alienation, fate and love, and a fantastic on-stage treat complete with dazzling costume and set design, catchy musical numbers, and dancing, with renowned musical theatre producers Howard Ashman and John Musker at the helm.

This autumn, make sure not to miss the final showings of The Little Mermaid at The Spotlight Theatre, running until March 2.
A Slice of Saturday Night
Twist like it's the '60s all over again with The Spotlight Theatre's upcoming musical A Slice of Saturday Night. Inspired by the likes of 1978 cult classic Grease, this nostalgic trip down memory lane delivers a fantastic experience of the '60s - along with all the dance moves and vogue that came with music's most radiant era.

Directed by Steven Days and choreographed by Erin Brummage, A Slice of Saturday Night is not to be missed for anyone wanting to relive their early days, as well as those that can't get enough of the timeless music of the '60s. Songs featured in A Slice of Saturday Night are original pastiches to the biggest bands and hits to ever come out of the '60s, performed by world-class singers and musicians with a knack for upbeat pop-rock.

Flaunting the '60s in all its glory, the story - based on the musical book by The Heather Brothers - depicts young love, teenage dreams and finding one's identity, providing a "twist"-worthy coming-of-age musical that is guaranteed to have you feeling nostalgic - and in the mood to dance - from start to finish.

Journey down memory lane and experience the '60s like never before in A Slice of Saturday Night, which will enjoy an exclusive run at The Spotlight Theatre from March 22 to April 7.
See a Show While Staying in Our Ashmore Gold Coast Accommodation
Treat the kids to The Little Mermaid or round up friends for an evening of nostalgia with A Slice of Saturday Night - whichever you're planning for, make sure to stay at Royal Woods Resort, where our Ashmore Gold Coast accommodation puts you just walking distance from all the unmissable shows at The Spotlight Theatre.

With a choice of stunning suites and villas near Surfers Paradise, our accommodation at Royal Woods Ashmore offers the perfect escape on the Gold Coast for families, groups, and couples. All of our luxury options are fully furnished, spacious, and equipped with all the right amenities, guaranteeing a satisfactory stay no matter whether you book for a few days, or more than a week.
Be Near Surfers Paradise and More
As well as The Spotlight Theatre, you can be just moments away from the Gold Coast Turf Club, Metricon Stadium, and Surfers Paradise at Royal Woods Resort. For racegoers and AFL fanatics, both the Gold Coast Turf Club and Metricon Stadium offer a regular schedule of events, taking place within minutes from our accommodation. And for those that love to relax on the beach or seek out thrilling attractions, Surfers Paradise - which can be reached within a short drive - won't disappoint.
Enjoy Downtime with Our Facilities at Royal Woods Ashmore
With lots to explore and enjoy nearby, you're going to need to take breaks to relax and unwind, and you'll find everything you could want with our superb onsite facilities. Pass the time on lazy days with our inviting lagoon-style swimming pool, enjoy a balmy evening soak in one of our two heated spas, and cook fresh barbecue whenever you choose with our poolside barbecue areas.

We also have a heated indoor pool, children's wading pool, children's playroom, exercise room, and lots more.
View Our Apartments and Book Directly Today
View our full choice of suites and villas and book today for the best available rates. With a choice of One Bedroom Suites, Two Bedroom Suites and Three Bedroom Villas, our Gold Coast resort is the ideal choice for any kind of getaway, where you can be sure to leave with a desire to return time and time again.

Bond with friends and family on Surfers Paradise Beach, have a day at the races at the Gold Coast Turf Club, and make sure to catch what's on this March at The Spotlight Theatre - all with Royal Woods Resort in Ashmore Gold Coast.

Get the best available rates by booking directly at Royal Woods Resort.