Celebrate Father's Day at the Classic Car Show with Royal Woods Resort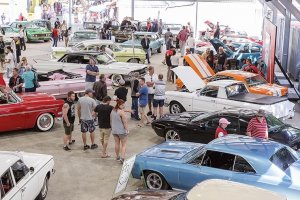 Spend a Memorable Weekend on the Gold Coast for Father's Day
Celebrate Father's Day on the Gold Coast this September with a memorable weekend in our Ashmore Gold Coast accommodation, where you can enjoy a relaxing location near Metricon Stadium, Aquis Park Gold Coast Turf Club and Surfers Paradise.

Here at Royal Woods Resort, our luxury suites and villas offer a fantastic stay for couples, families and groups, providing comfortable open-plan rooms and large private balconies along with superb guest facilities to make the most of onsite at our resort - the perfect way to kick back this Father's Day.

Just a stone's throw away from our location this September, Father's Day this 2019 will be in full effect at the Gold Coast Carrara Markets, which will be hosting a full weekend of lots to see and do for the unmissable return of the Gold Coast Classic Car Show.

If you're looking for the perfect gift for Father's Day, have a read on what you can enjoy with our luxury Gold Coast resort this September.
Gold Coast Classic Car Show 2019 - the Perfect Father's Day Treat
Returning for Father's Day at the Carrara Markets - Australia's largest permanent marketplace on the Gold Coast - Classic Car Show 2019 will take over with a fantastic weekend atmosphere and more than 40 classic cars to see up close!

From shiny Cadillacs to brawny muscle cars, this year's Classic Car Show is all set to deliver another superb display of retro and rare classic cars - a must-see for car lovers and the perfect treat over the Father's Day weekend.

Snap your picture next to a whole host of shiny classic cars, talk one-on-one with the owners and enjoy the incredible atmosphere with hundreds of other likeminded autophiles with a taste for vintage. Taking place at the Carrara Markets, the 2019 Classic Car Show will come with an eye-catching spread of market stalls, offering lots to browse and purchase with plenty of great food to taste throughout the two-day event.

The Carrara Classic Car Show returns on August 31 and September 1 - don't miss it near our Ashmore Gold Coast accommodation for the perfect treat on Father's Day!
Relax Near the Carrara Markets with Royal Woods Resort
Enjoy Classic Car Show 2019 over a weekend getaway at Royal Woods Surfers Paradise, where our choice of family-friendly suites and villas will put you just a 5-minute drive away from the Gold Coast Carrara Markets.

Perfect for any kind of stay, all of our luxury options offer all the right comforts with spacious living and dining areas, full kitchen facilities, inviting Queen-sized beds and furnished private balconies. For up to 2 guests, our One Bedroom Suite is your ideal choice, but if you're looking for extra room, choose our Two Bedroom Suite or spread out comfortably in our Three Bedroom Villa, which can accommodate up to 8 guests with an additional sofa bed.

Whichever matches what you have in mind, make sure to book directly with us to take advantage of our affordable rates!
Discover the Local Gold Coast Attractions
The Gold Coast is home to a plethora of world-famous attractions and great places to visit, and with our convenient location in Ashmore Queensland, you can guarantee a Father's Day to remember this September with a whole host of exciting things to do waiting within a short drive.

Surfers Paradise is just moments away with plenty for the whole family to enjoy on Father's Day. Have a shopping spree at Chevron Renaissance or Cavill Mall, unwind on Surfers Paradise Beach, and visit all the leading attractions that the Gold Coast has to offer, which includes SkyPoint, Timezone Surfers Paradise, INFINITY Attraction, Gold Coast Wax Museum and more.

Explore the many attractions in Surfers Paradise, then take a time out in one of the scenic parks near our Gold Coast resort. Relax at Macintosh Island Park in Surfers Paradise - home to a friendly population of peacocks - or head over to the scenic Broadwater Parklands found in Southport for a quiet picnic or stroll next to the waterfront.
Have a Special Father's Day Dinner in Surfers Paradise
As well as must-visit tourist attractions, Surfers Paradise offers a broad choice of world-class restaurants where you're guaranteed a memorable Father's Day dinner.

Find a number of exciting options on Surfers Paradise Boulevard - such as Alfresco and Clifford's Grill & Lounge - or make your way to Surfers Paradise Esplanade for an unforgettable oceanfront dining experience at Seascape Restaurant & Bar, Brazilian Flame Bar & Grill or Sandbar. Other areas where you'll be spoilt for choice include Orchid Avenue, Chevron Island and Paradise Centre.
Enjoy Our Onsite Facilities
Father's Day is the perfect time to kick back and relax, and with our wide range of guest facilities, you'll have all the right reasons to unwind onsite at Royal Woods Ashmore after a busy day on the Gold Coast.

Our sparkling lagoon-style swimming pool is perfect for a refreshing swim, and there is also a heated indoor pool for laps and keeping cool. Have an afternoon or evening soak in one of two heated spas, and make sure to set aside a balmy night for a family barbecue next to the pool using our modern barbecue amenities.
Save on Your Stay - Book Directly Today
Start planning the perfect escape on Father's Day with our Surfers Paradise accommodation near Metricon Stadium, Aquis Park Gold Coast Turf Club and the Carrara Markets, where this September you can enjoy an unforgettable Father's Day weekend at the 2019 Classic Car Show.

With our fantastic location, you'll also be just minutes away from Surfers Paradise, which will provide you with even more exciting things to do this Father's Day 2019. Soak up the arrival of spring on Surfers Paradise Beach, enjoy world-class dining and shopping, and make your time on the Gold Coast more memorable by visiting all the world-famous attractions Surfers Paradise to offer.

View our stunning suites and villas then book directly for our best rates - just visit Royal Woods Resort.