A Beautiful Showcase of Australian Flora and Fauna
Posted in
Updates
@
Sep 10th 2016 6:36pm
- By Royal Woods Resort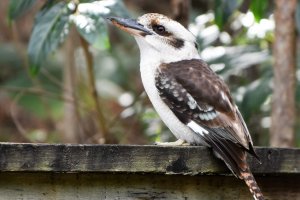 An oasis of calm just a stone's throw from the popular Surfers Paradise strip, almost half of Royal Woods Resort's 12 acres is dedicated to beautiful landscaped gardens and natural green space.
At Royal Woods Resort, we understand how vital it is to connect with nature for both mental and physical wellbeing, so our team place importance on keeping the gardens in great condition. We have actively reduced the amount of water used for irrigation, which is vital for times of drought, by carefully selecting native plants that require little or no water to survive, are more weather-resilient and require little in the way of regular maintenance.
In our well designed gardens, we had flowers blooming throughout winter and now spring is here, the green areas are a beautiful showcase of Australian flora and fauna including the beautiful kookaburra featured with this blog.
Respect and conservation of the local environment is a central component of Royal Woods 'green' ethos. With the help of an experienced horticulturalist, we selected and incorporated organic matter or supplies that allow us to minimise the use of pesticides. Our dedicated soil improvement strategy has included the use of water retention materials such as water crystals to improve water penetration in the soil and to increase the intervals between plant watering and irrigation.
As part of our serious water conservation strategy, we installed two 9,500 litre water tanks for use in watering the tropical gardens and topping up our stunning pools.
We hope our well loved gardens and outdoor entertaining areas will become one of your favourite places to socialise, dine and unwind during your stay.
Don't you owe it to yourself to experience the excellence of Royal Woods Resort? Booking is as simple as booking here on our website, calling us on 07 5597 0650 or emailing [email protected]. Our friendly team are standing by to offer you the lowest rates and helpful local information.

P.S. Make sure you like our Facebook Page today so you can be amongst the first to hear about great specials of up to 50% off the price of our luxury accommodation on the Gold Coast.

We look forward to welcoming you to our award winning Resort.