7 Best Things to Do in Surfers Paradise This Winter 2019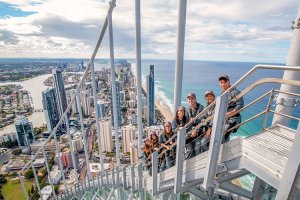 Surfers Paradise Gold Coast is a tourist's dream with fantastic attractions, world-class entertainment, great places to dine and shop and a vibrant beachfront to top it all off. If you're a first-time visitor on the Gold Coast and or someone looking to be at the heart of all the excitement, Surfers Paradise is the best place to start, where, no matter the season, you're in for an experience that sums up everything that's exciting about the Gold Coast.

Our location in Ashmore Gold Coast gives you a prime location to relax with all the hustle and bustle of Surfers Paradise waiting within a short 10-minute drive. Feel at home near Surfers Paradise with our luxurious suites and villas, all of which are fully self-contained, spacious and complete with a full range of resort facilities to take advantage of onsite.

The warm winter season offers a fantastic atmosphere for exploring Surfers Paradise - book with Royal Woods Resort today and make sure to put these 7 best things to do in Surfers Paradise on your holiday to-do list!
Enjoy the View on the Gold Coast SkyPoint Observation Deck
The SkyPoint Observation Deck at Q1 on Hamilton Avenue boasts a breathtaking 360-degree view, where you'll get to survey the surrounding hinterland, the glittering Pacific Ocean and down the sprawling coastline all the way to Coolangatta. At 750-ft tall, this must-visit lookout has arguably the best view on the Gold Coast - something you won't want to miss during your Surfers Paradise holiday.

For the best experience, time your arrival for sunrise or sunset then finish up with a meal in the SkyPoint Bistro + Bar. From hot buffet breakfasts to mouthwatering tapas-style cuisine, this sky-high bistro isn't to be ignored if you're all about dining with a view.
Be Amazed at INFINITY Attraction
INFINITY Surfers Paradise at Chevron Renaissance Centre is an attraction like no other in the world. Lasting 30 minutes and suitable for children over eight-years-old, this mind-blowing funhouse is a blast into the future with immersive lights and sounds, special effects, illusions and more.

Highly immersive and fully interactive, INFINITY Attraction is thrilling for both kids and adults alike. It's sensory overload with neon lights, trippy music and spatial illusions - an unlocked portal into the future at the heart of the Gold Coast. It may only be half-an-hour long, but you can be sure that you, and the kids, will be back for a second visit.
Shop in Style at Cavill Mall
Head to Paradise Centre to find Cavill Mall - the leading shopping mall in Surfers Paradise. Located just a short walk from Surfers Paradise Beach, Cavill Mall is your one-stop shopping centre for boutique stores, bargain-hunting and a huge choice of tempting eateries.

The atmosphere itself is one reason to visit Cavill Mall, where surrounding the mall on Cavill Avenue there is always live buskers and street performers, bustling nightlife and more than enough shops and fast-food outlets to appease all tastes. Whether you're looking to shop till you drop, find good food or just soak up the electric ambience, Cavill Mall is well worth putting on your list of go-to spots in Surfers Paradise.
Discover the Best Restaurants on the Esplanade
There is a plethora of exciting restaurants to be found in Surfers Paradise - from mouthwatering international cuisine to award-winning fine dining - and one place to experience the best of these is on the Esplanade next to Surfers Paradise Beach.

Easily accessible and offering a wide choice of dining options for all, Surfers Paradise Esplanade is the place to go if you're curious about good food on the Gold Coast. Just a few options where you're guaranteed to leave with a full stomach include Seascape Restaurant + Bar, Brazilian Flame Bar & Grill, Greek Street Grill Surfers Paradise, Sandbar, Hurricane's Grill & Bar and Elston.
Kick Back at Macintosh Island Park
Surfers Paradise is famous for its nonstop holiday atmosphere, but if you need somewhere to escape and unwind, look no further than Macintosh Island Park.

Located near Surfers Paradise Beach on Macintosh Island, Macintosh Island Park - known locally as "Peacock Park" - is a grassy oasis where packing a picnic beforehand is a must. Sunbathe on the lawn, visit the running streams and explore the numerous walking paths. The friendly population of peacocks is a nice addition, as well as the park's sandy playground which promises to keep the kids busy for a few hours.
Experience a World-Class Show at HOTA
Home of the Arts is the home of performance and world-class entertainment on the Gold Coast. Each month there is something worth seeing - from live music to exclusive theatre performances and stand-up comedy - and if you're looking to make your stay in Surfers Paradise even more memorable, make sure to check out what's on during your visit.
Browse the Surfers Paradise Beachfront Markets
You're bound to spend a lot of your time on Surfers Paradise Beach, but on Wednesday, Friday and Sunday nights, make sure to hang around for the famous Beachfront Markets.

From 4pm on the Esplanade near Paradise Centre, stop by to browse over 100 high-quality stalls selling everything from bargain fashion finds and jewellery to local handmade crafts and souvenirs. It's a fantastic insight into the local community and a great way to pick up a few must-have items.
Enjoy Surfers Paradise with Royal Woods Resort
Savour everything that's exciting about Surfers Paradise with our Nerang accommodation at Royal Woods Resort. Situated just outside of Surfers Paradise, our choice of stunning One or Two Bedroom Suites and Three Bedroom Villas offer an unforgettable Gold Coast holiday that puts Surfers Paradise at the tip of your fingers.

Our options are spacious, comfortably furnished and complete with full kitchen facilities, inviting Queen-sized beds and large private balconies. View our full choice of accommodation, see our relaxing onsite facilities and book directly with us today at Royal Woods Resort.